Southern Living
As my visit to Black Mountain, North Carolina (the belt buckle of the bible belt) draws to an end, here are a few random observations.
The weather has been beautiful. Warm and sunny, with plants blooming and lots of meals on the deck. Weather like this makes you want to live here.
This country here in the hills is beautiful and scenic. Mountains, rivers, lakes.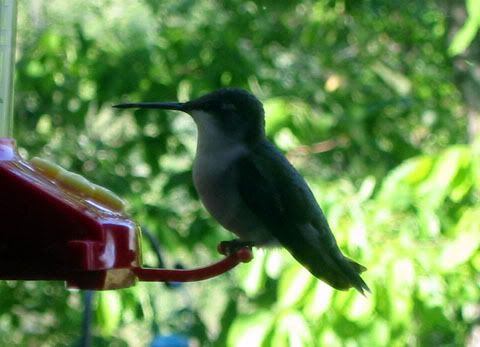 hummingbirds on the backporch
People here are generally friendly and open. Nice vibe where people ask and actually want to know how you are doing. They ask in a thick drawling accent without much regard for grammar, but that's

aiight

.
nearby Jonesborough, Tennesee
Motorcycles have enjoyed a renaissance here to the point of taking over. Harleys in particular. Bikers everywhere. Swannanoa - a tiny country town near Black Mountain - has a Harley Davidson store that is the size of a Wall Mart. There is also no helmet law here; I guess this is Darwin's way of thinning the Redneck population.
Monster Trucks are as popular as ever.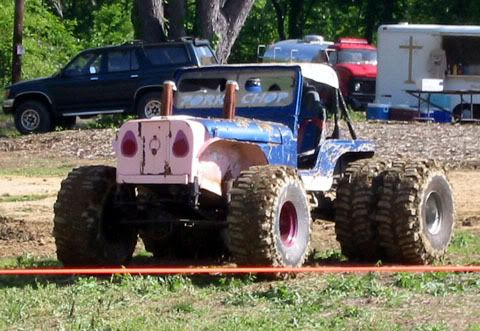 The "Pork Chop"
One local business advertises: 100% USA Hillbilly Owned
The Wall Mart is always packed. The parking lot is full every time I have passed, morning or evening.
The food here is seriously rich. No healthy options. Huge portions, cooked in grease, covered in sauce. Even the few veggies on offer.
The average person's size is proportional to the uber-caloric nature of the food.

Went on a jetboat ride with my family. We did 360's in the lake. Yee Haw, coo coo coo.
Goin' native.
Visited great old college friend Mike Knoblauch and wife Barbara Jane and family in Atlanta for a very nice weekend. Mike has his pilot's license and took me up for a cruise around in the Cessna.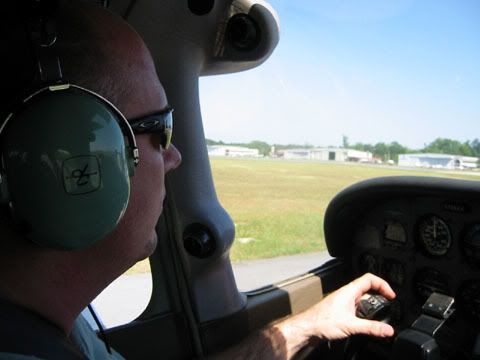 Pilot Mike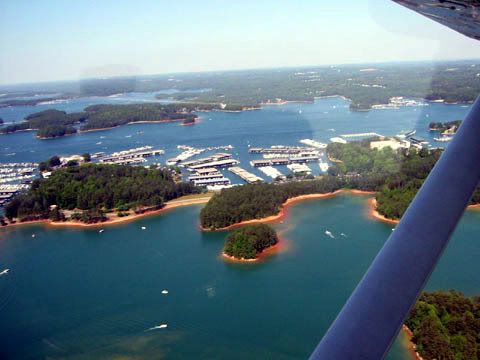 Lake Lanier from above.
Also in Atlanta, I also got to see other great old college friends! David Fowler and his wife Amanda hosted a very nice BBQ at their lovely David-designed home. Anne (Blakely) Sciarrone and her husband Chris were there, as well as Mike and BJ, and a wild roaming pack of child-like creatures. Brigitte Birk made an appearance by phone from Montana, and was sorely missed.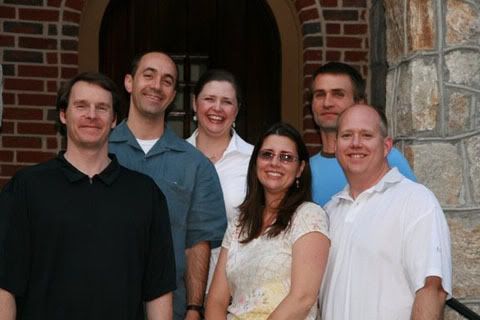 (l to r) David, Chris, Anne, BJ, me, Mike
Great to see my family again! It has been wonderful. Thanks for everything.