Maldives Surf Trip, 2006
I'm still feeling the glow a full two weeks after returning from the beautiful Maldives. Amazing what two solid weeks of surfing can do for the soul, especially when it takes place in a picturebook paradise.
The Republic of Maldives is a nation of islands located in the upper-middle Indian Ocean. Consisting of 26 atolls, it has approximately 1,192 islands, most of which are uninhabited.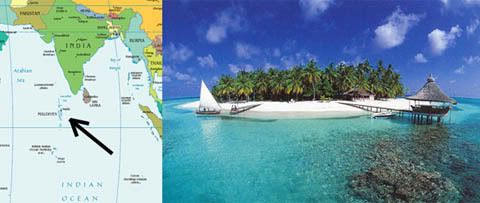 The Maldives is an exclusively Islamic nation (a requirement for citizenship). Yet, despite some of the politico-religious prejudices getting unwarranted airplay these days in the U.S., these Islamic people were extremely welcoming and friendly and never once tried to kill us "infidels". Not even after we regularly drank beer and ate food throughout daylight hours during
Ramadan
, their holy month of fasting.
I was invited to join this expedition of Aussie surfers by my friends Paul Myors and Bruce Taper. There were 8 of us total, almost all 'mates' originally from Newcastle. We stayed on a safari boat "Haveyli" for the entire two weeks, and as you can see from the picture above, we were not exactly roughing it. We were joined by an additional 4 people each week, for a total of 12 surfers on the boat. Everyone turned out to be really great, and got along like old friends.
Here is our typical daily routine:
- Get up pre-dawn, eat some cereal, and go surf for a couple hours at the break nearby.
- Come back to boat for a hot breakfast, and discuss if we wanted to stay at this surf break or go to any one of 7 excellent options within a short distance.
- Surf some more. Relax, nap, read or watch surfing if not surfing.
- Eat lunch.
- Surf some more. Relax, nap, read, or watch surfing if not surfing.
- Beers at sunset, then dinner.
- Bedtime.
Repeat for 14 days, with a bit of snorkeling, fishing, and island-visiting thrown in. Sound boring?
Never
got bored; here's why: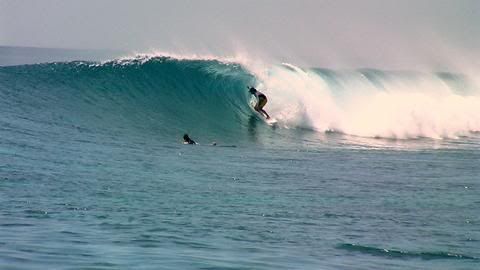 We were had waves that ranged from very good to great the entire trip. There was one day that might have slid down to the category of "fun", but that was relative... back in Australia we would have called that day great.
The Haveyli anchored just a little ways off of these nice waves peeling with precision over coral reefs. A small dinghy ran us out to the waves and came to get us when we waved (usually).
The dinghy driver "Roonie" smoked cigarettes constantly - note the two tanks of petrol under his butt. I generally tried to sit toward the front of the dinghy. On my very first ride out to the surf Roonie inexplicably drove into the break zone (normally he steered
way
clear of it) and hit the prop on the reef (water about 18 inches deep) which stalled the engine as waves loomed; we made it...just. Clockwise from Roonie are: Paul Myors, Phil Grant, Paul Duncan, Pete Cornford, Bruce Taper.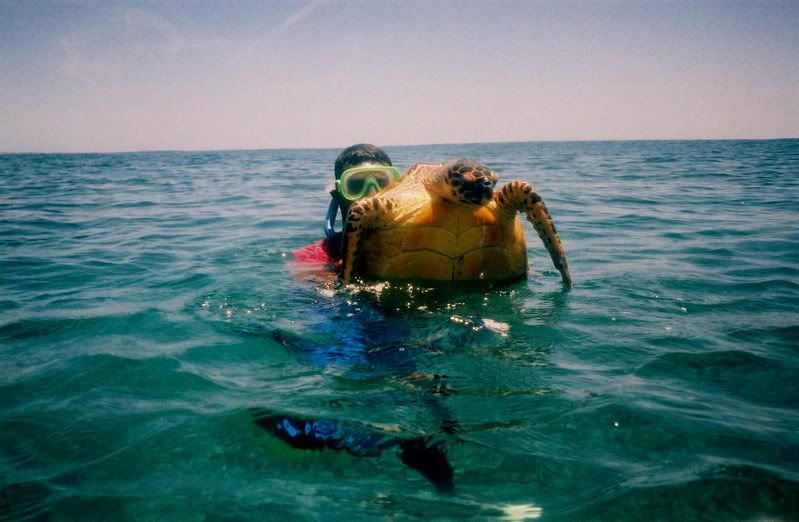 There was a heap of sea life around, and the water was so clear that we had a good view while surfing, even without a mask. This turtle was hanging around in the lineup, and didn't leave even after being grabbed.
Dolphins were everywhere, and in large numbers. On more than one morning, I saw pods that numbered in the
hundreds
- no exaggeration. I snapped this picture with a cheap disposable watercamera as I swam back to the boat and found myself surrounded.
Here is a mess of fish that were feeding in a huge school beside the boat until Terry did a cannonball into their midst.
More surf shots so I don't lose the interest of certain friends: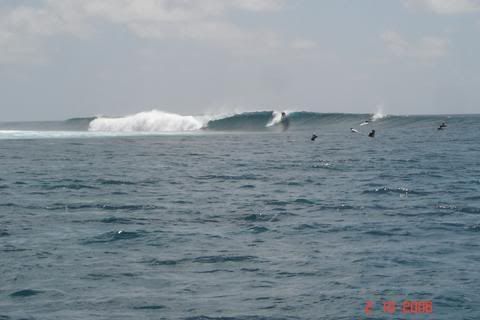 I took this one while riding (The image is strangely flattened out - I remember the wave as being quite steep):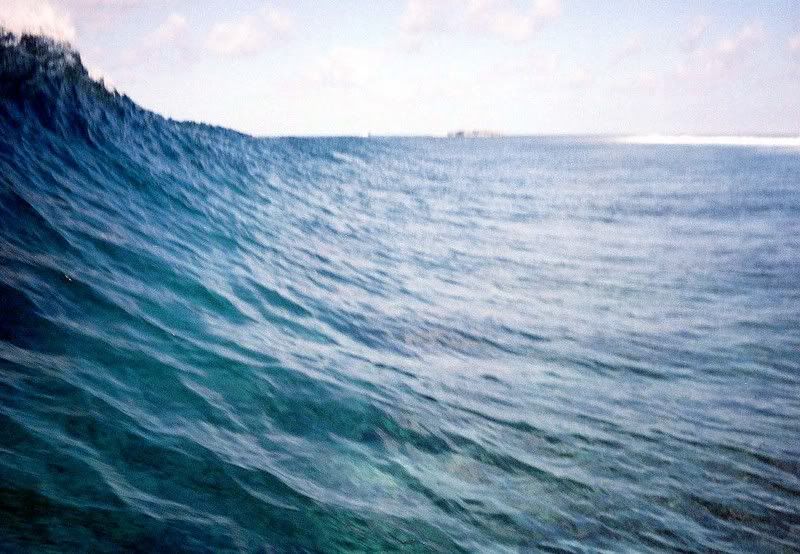 When one is not surfing, they can usually be found here: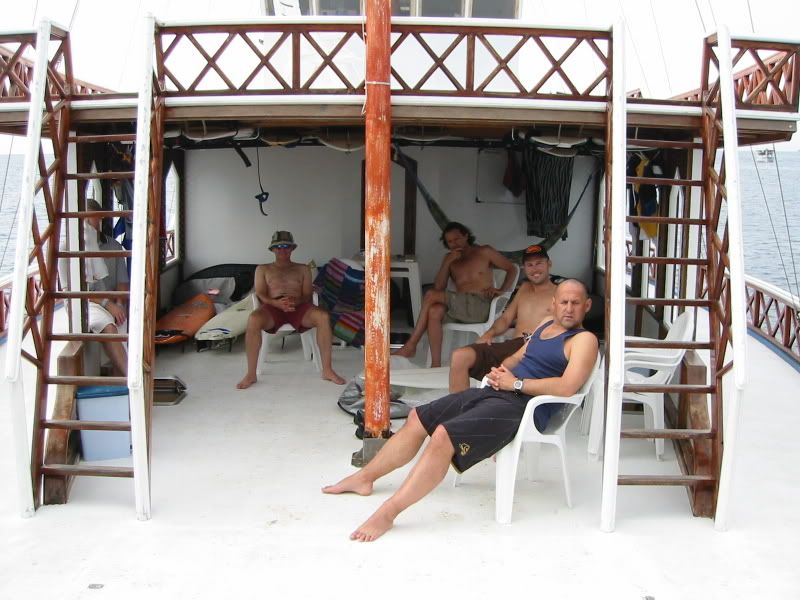 Good view of the surf from that nice shady vantage point.
It is worth mentioning that the temperature was perfect. I lived in surf trunks and never had to put on a shirt to keep warm, even when the sun went down. During the day it was warm in the sun, but quite pleasant in the shade. (exception: it was much hotter on land). There was always a nice cooling breeze - almost always offshore, which was ideal for surfing. The water was bathwater warm, but with just a touch of cool so as to be refreshing.
"Tiger Time" - sunset with Singapore Tiger beers and surf-hair: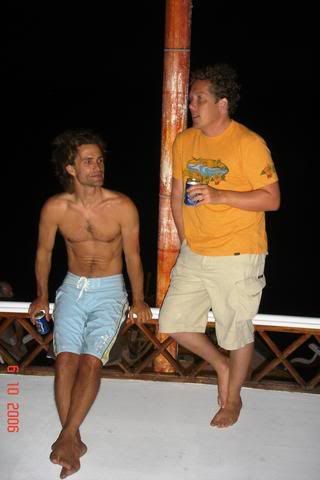 Standing next to me is a nice Dutch surfer named Ronald who joined us the second week. Did you know people surfed in Holland? Yep - 5mm wetsuits in the North Sea.
Ronald and I both had birthdays while on the boat. The kitchen outdid themselves and managed to bake cakes for us.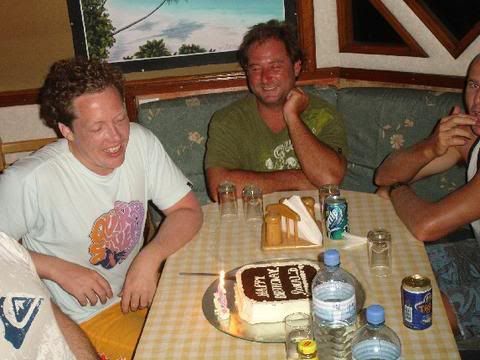 The food on the boat deserves special mention. Those guys in the tiny little ship's kitchen produced some fantastic meals. I would describe the food as a mix of Indian food and Asian food, with some Aussie thrown in. Lots of curries, pasta, fish, chicken, slaws, salads, potatoes, beef - just about all were represented at each meal. And pizza...somehow they managed to twice make pizzas for 12 hungry guys. I have yet to find a pizza that good near my home in Manly.
Here are the heroes Ghamni & Bundy: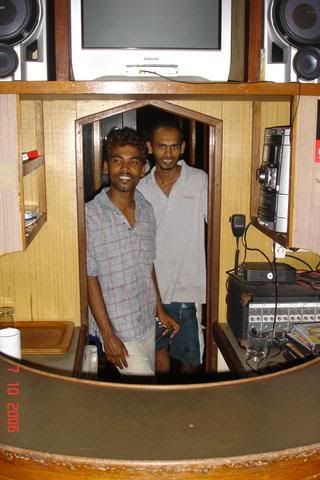 Their methods were strange, but effective. One could usually see what was coming for dinner by checking a bucket on the back of the boat: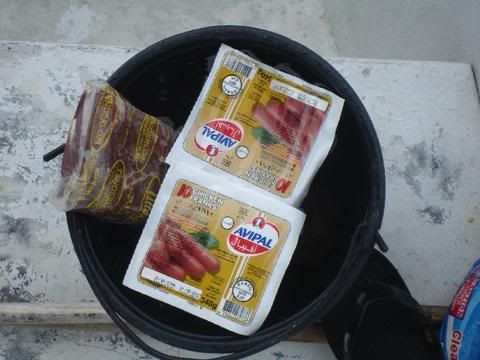 It was pretty scary to see raw chicken floating in water with a tuna. It wasn't always wrapped in plastic like it is here. But one had to trust that they hadn't killed anyone yet - and well, you get pretty hungry surfing all day. Besides, look at what came out of the kitchen: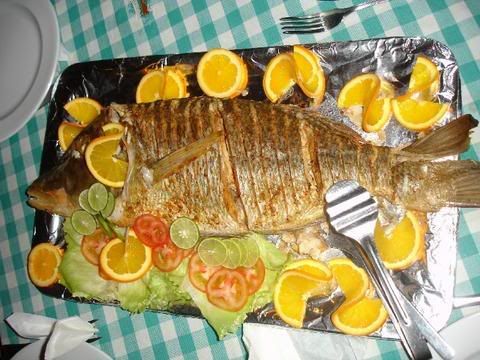 One of the surfers, Lee, caught that fish off the back of the boat. Can't get any more fresh than that.
One day while surfing I witnessed a large manta ray (6 feet across?) jump completely out of the water and splash down about 20 meters away. There were a lot of surfers with their mouths left hanging open.
I loved the sign on this house. If you can't read it, it says "Style".
Sun protection was a must. (There were a few people who learned the hard way.) Here is Bruce with his pirate hat: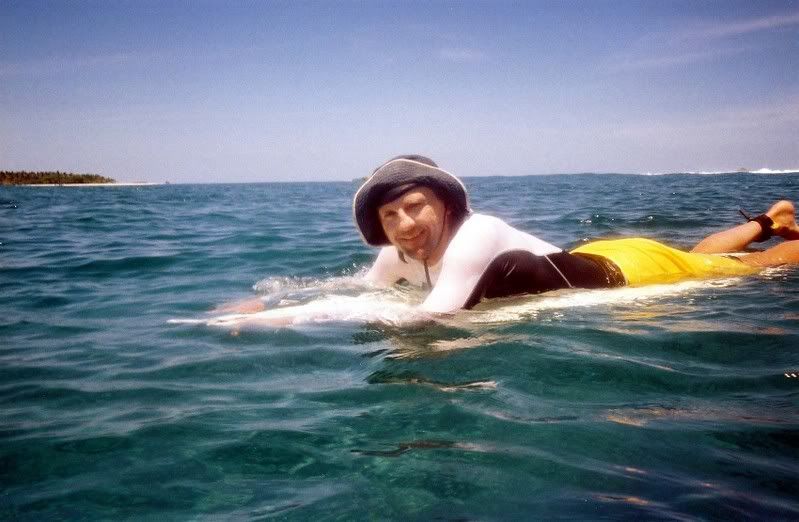 And here is Bruce testing the aerodynamics of his pirate hat: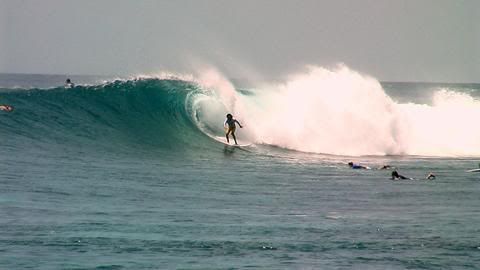 And a more extreme approach of sun protection from the "Phantom Brothers" (Paul & Andy):
Some wore sun protection even though the sun was long gone. Here's a good zinc beard still being sported at Tiger Time: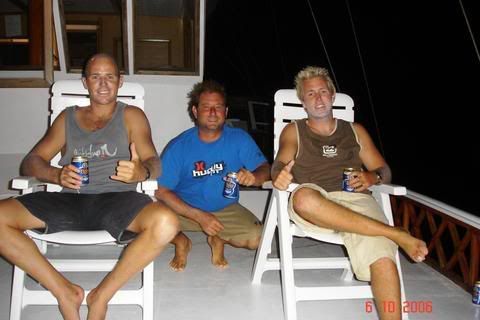 Sunsets at sea...
Precision lines: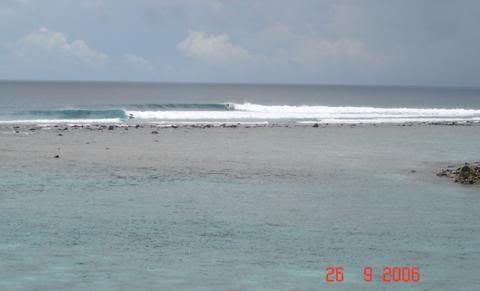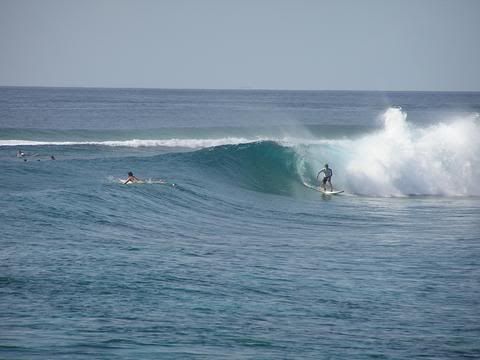 And here is the last day portrait:
From left to right: (Paul, Terry, Mark, Leigh, Phil, Me, Ronald, Dunc, Pete, Andrew, Bruce, Craig.
So who wants to go next time?