Over Down Under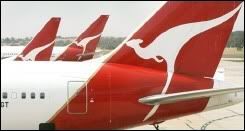 I'm sitting at the gate waiting to board my flight out of Australia.
It's been a good two years - Australia is a beautiful and unique place blessed with great weather, stunning coastlines, and a good attitude. I'll miss this place, and many people.
However I am very excited to be returning to the U.S.. It has been hard being away from friends and family, and it won't be long before I'll be driving you all nuts in person again. Plus, two summers in a row isn't a bad thing either. Mmmm...Portland summer BBQ's with, gasp,
decent beer
! Almost as good as Mom's cooking.
Oskar was picked up by the Pet Carriers yesterday, and I'll be seeing him today in Los Angeles. His Iams food went with him, so he will have had better inflight food than I am expecting. Luckily, no quarantine awaits for him - he's had enough jail time and swears he's on the straight and narrow now.
Ciao fer now - see you soon stateside.