Happy New Year 2007!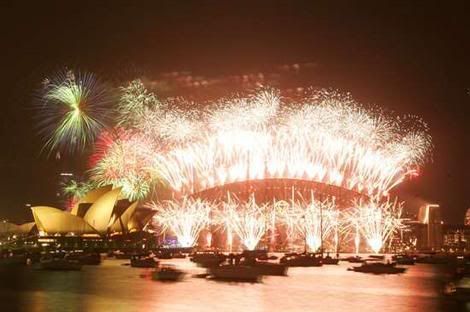 This picture is from last year.
Updated to show this year.
(Picture from SMH)
I just rolled in from this year's similar scenic bridge explosion, and wow what a fireworks show and wow what a mass of humanity that turns out for it. The crowd-control barrier industry is cashing in on these sorts of events. It took some doing, but I managed a great spot for the full ooo-aah experience.
This year was the 75th anniversary of the bridge, so they apparently tried even harder to blow the bridge up colorfully.
I happened to be coming across the bridge in a train when the 9pm "childrens" fireworks went off. This is also quite a large fireworks display by most standards - 4 fireworks barges on each side of the bridge. The train stopped in the middle of the bridge, and color exploded on all sides of us. Great timing! Best seat in the house.
Those of you still in 2006 should know that so far, 3 hours into it, 2007 is just great!

...and may your New Year's have fewer sloppy drunken singing Pommies.