Video Proof
As I mentioned before, Paul took a video camera on the Maldives trip, and was editing a movie. I know Paul to be a solid and capable guy, but given the difficulties of filming surf from a distance with a hand-held, not to mention from a constantly moving boat, I never expected the result to be nearly so good!
His movie, titled "Exodus", really captured the feel of the trip, the people, the place, and of course some great surf. All edited into an excellent production with chapters, narration, titles, and soundtrack.
The inaugural viewing took place on a projector & screen, and met with rave reviews. I have to say, it is actually kinda disturbing to see one's own head 3 times normal size for the first time. But I think I'm ready for my closeup now, Mr. DeMille.
Here is one of a custom batch of beer we chipped in on as a token thanks to Paul for all his hard work - Pete went the extra mile with the labels: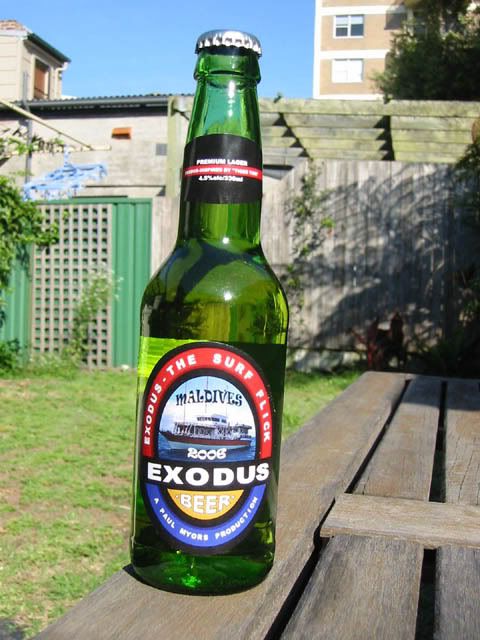 And
here
is a little clip I raided from his movie, to give you a taste. Of course I couldn't resist grabbing some of my own surfing footage - that's me in white with the hat.
The best wave in this clip however is the maestro Paul getting barreled at Sultans.
I give "Exodus" two-thumbs-up (with pinkys extended Hawaiian style).