Rose City Redux
Back in Portland now, and it feels wonderful.
I couldn't have had a better welcome! (More on that in a minute.)
I've been busting tail for the last couple weeks trying to catch up on all the Mexican food and micro brews that I missed out on for the last 2 years. Oh that, and moving into a house and trying to get a business going.
First the trip home: Had to abandon my original flight due to high heat and the complications that causes when flying with a dog...and ended up having to try and fly
early early
morning standby in order to get to PDX before the temperatures rose. Huge thanks to my parents for delivering Oskar and I to the airport at a ridiculous hour. Got lucky and the gamble worked - otherwise, we could have been stuck in Charlotte for a week, judging from the weather report.
Because of the flight shenanigans, I called John & Julie, who generously offered to pick Oskar & me up, and canceled - because I had no way to predict if and when an arrival would occur. I did call from Chicago to let them know all had worked out, but that I was going to find my own way since I was arriving now in the middle of a workday. No flight info was exchanged.
Upon arrival in Portland, I was just cruising along toward the baggage area, thinking that I was on my own, when I encountered a welcoming party of 8 or so people! Totally unexpected. I was completely floored, in fact. Couldn't believe it, or for that matter form a sentence. It couldn't have made me feel any better about my decision to return. Thanks y'all, you are the main reason Oregon is my home; friends just don't come any better. Oskar arrived safely too, and got the greeting of his life also, and an Oregon duck chewtoy as well.
I've been here now for three weeks, and they have been a crazy blur. Sorry for taking so long to confirm my arrival, but there has been just so much to do. And of course, wanting to see everybody and everything again too. I am still trying to see a good friends for the first time upon return even now, weeks after arrival! How busy we all have become. If I haven't tracked you down yet, please know that it's not for a lack of want.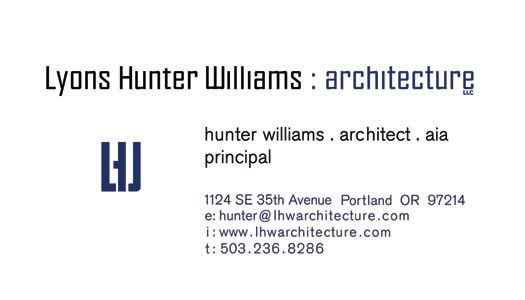 The business is now alive, if not quite airborne. I had my first real client interview yesterday for a house remodel project that involves... moving one wall. I don't even think I'll get the project. She was shopping around for architects, and I'm fairly sure my portfolio full of large commercial projects didn't really seem applicable to the job at hand, in her mind.
The same day that I was begging this lady for her humble job, Ernest sent me
this article
about designing an entire city from scratch. Talk about a design practice on the complete opposite end of the spectrum!
Meanwhile I am assisting my good friend Calvert with her house remodel project - not because she needs help (she's an Architect), but because she's generous and pretends I can help.
I've also been hired for a bit of work by my friends the generous and talented Keyan and Alexia of
eM|Zed Design
, who are so awesome that they are currently overwhelmed in work. Thanks also to all of my other friends who are generously assisting me in many many ways - advice, referrals, encouragement, etc.
Additionally, I just spoke to my old Portland employer, and they are going to hire me freelance for 20 hrs a week for a few months, so at least I know I can pay the rent now for a bit.
Actually, my first official job is probably one that has been kicking around for some time now: a house for
Steve and Kate
in Baja, Mexico. After a couple years of dreaming about it, the project is finally starting to shape up! It's still at least 6 months away, but I am so looking forward to it.
The business now has a name...
Lyons Hunter Williams : Architecture
.
We now have a domain (thats a royal "we", there's
really
just me...shhh), a (crude)
website
,
email addresses
(even for nonexistent people like our "accounts" department), a phone line, a yellow pages listing, multiple licenses, an accountant, a lawyer, business cards being printed, and the start of a reference library.
I also have a new car. It was a hard slog on Craigslist to find a decent car, and then manage to get there ahead of the pack. Huge thanks to Francis for letting me borrow his truck while I was wheel-less. The new car is perfect though - a fun-to-drive VW golf, complete with bike/surf racks included.
I've made it back into the Oregon surf, and crikey that's some cold water. Even the air felt cold to me - while changing in the parking lot I'm wearing about 5 layers and a hat; everyone else is barefoot, in shorts, and no shirts. I guess I have some re-acclimating to do.
Had a great Portland experience this evening: went to watch a
Roller Derby
match. Yep, just like you remember from the seventies. Better yet, I know someone on one of the teams! I'm not sure she wants the world to know her secret identity, so I'll just give her roller-name: D. Konstructor. The savvy will get a clue to her profession from the name. She turned out to be the star of the night, coming from behind and scoring the winning points in the final minutes. I had a blast, and I practically screamed myself hoarse. Silly, campy fun, and actually quite intense sport. Pure Portland in spirit.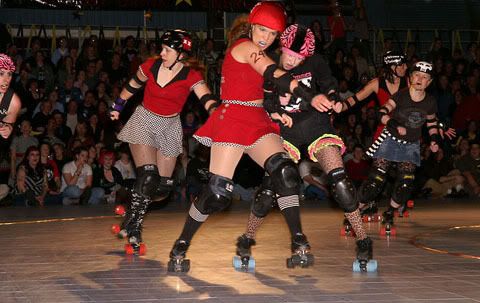 So now that I'm back Stateside, I just can't imagine feeling too inspired to blog much anymore - I'll be putting most of my energy into just trying to earn enough to eat, and somehow I don't expect that what I'll be doing will be all that unusual or gripping. Most of you live in Portland with me anyway! So thanks for reading along, all half a dozen of you, but don't expect much more at this address.
And to close, an explanation of the horse pictures above. Throughout Portland you will see those metal rings set into curbs - the story being that they are left over from the days of horse drawn carriages, and were to provide a place to tie one's mount. In typical Portland fashion, someone has taken it upon themselves to tie up little plastic horses to these rings, all over the city. These two are right near my house. Man I love Portland.
Cheers Everyone!