Exploring the NSW North Coast.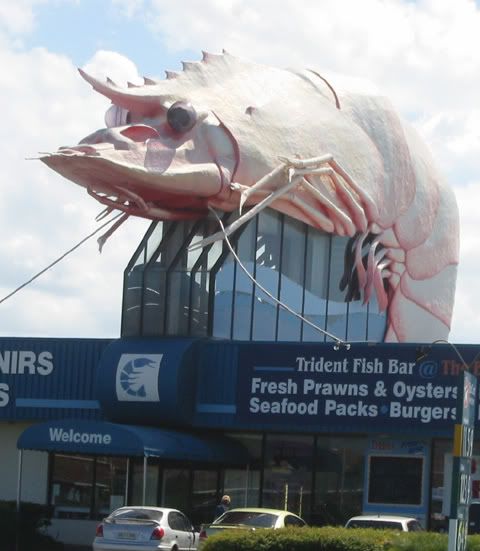 (Big Prawns)
There is no shortage of stunning coastline and good surfing in Australia, but the north coast of New South Wales is particularly blessed. Surf magazines and surf movies have made the names of these places and their waves familiar to surfers the world 'round. Surfing these breaks over these last couple of weeks has been something like the fulfillment of a high school fantasy for me.
I traveled these shores once before almost 16 years ago as a part of a much larger trip – but I had no surfboard and no money, and could only achingly watch the waves from the shore. I still clearly remember a day at Angourie with big perfect peeling lines, the legendary Nat Young out surfing (and screaming at people), and the refusal of everyone to loan me their board for 'just a few minutes'. There was no way I could allow myself to leave the country this time without paddling out at a few of these classic locations.
I'm not sure how these two years managed to pass before I made it up the coast to these places. Timing is everything – you can't go during the summer (no waves), you can't go during standard holidays (insane crowds - everyone else goes too), and planning special time off of work might not coincide with a swell. But the timing was right this trip, and except for the Easter holiday weekend, there were no serious crowds and as luck would have it there were actually very good waves.
I'll save the long-winded detailed descriptions of each break for discussions over beers with friends who surf and might actually care. But here are a few of the highlights.
Boomerang Beach: Not a "classic break", but a good right pointbreak none the less. The surf was overhead and pretty good, though a bit chaotic. What distinguished this place was the experience of staying at a house rented for the Easter Weekend by my ex-coworker Marc and his friends: huge place with a pool and a spa located on the point directly above the surf break. One night of luxury before weeks of tent sitting. One of the guys broke his board that day.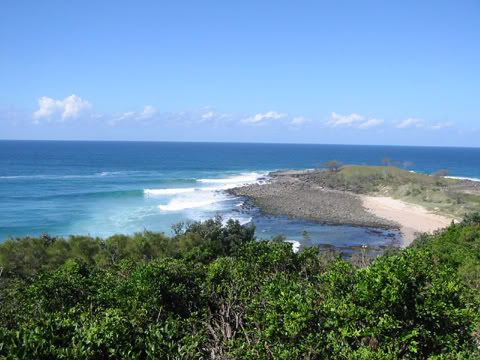 Angourie: This one was personal…after watching it from the shore many years ago, I just had to go back and surf it. A classic right point, I scored waves head high and larger – some of the sets on the third day approaching double overhead. Those larger drops felt a bit skittish on my 6'-3" board. Occasional hollow sections, but mostly big carveable walls. Mellow crowd, no hassle from the locals. Voted #8 top surf spot in Australia.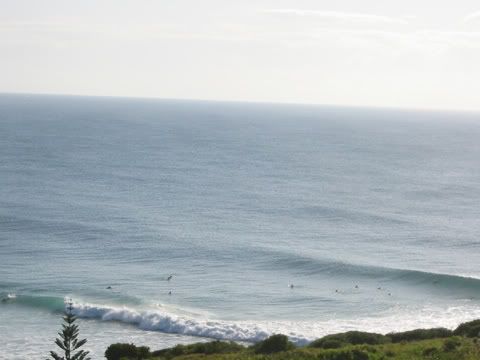 Lennox Head: Another fantastic right point break. Long sweeping rocky coastline meant even longer peeling waves. Known for handling quite large waves. I surfed it twice at a consistent head-high +. Surprisingly not too mean at that height and plenty of water below, but the entry and exit involves scrambling on barnacle-encrusted rocks; have a few new scars on my feet now. Not too crowded, but one local gave me a hard time anyway for no good reason. Voted #4 top surf spot in Australia.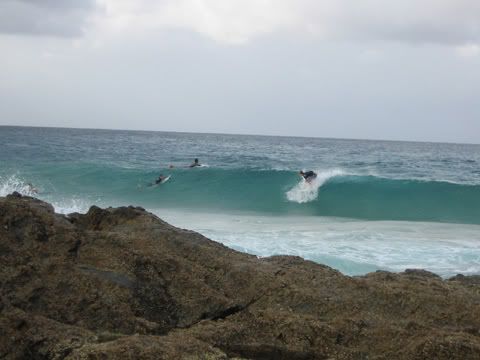 Superbanks: This one is the crown jewel. The name "Superbanks" is a term given to encompass a number of formerly individual breaks (Snapper Rocks, Rainbow Bay, Greenmount, and Kirra) that now generally link together to form a single, insanely long, peeling, perfect wave. A continuous dredging project from the river mouth around the point deposits sand in a mile long sweeping arc that works the waves with machine-like precision. Catch a wave here, and your ride can take you a very, very long way. While the other breaks mentioned are somewhat remote in the countryside, this one is smack dab in front of the Gold Coast highrises, so avoiding the crowds is impossible. I went at first light, last light, mid-day, mid-week, and always had aggressive crowds to contend with. Got a precious few waves, but there is always someone dropping in on you. Still…wow what waves. Hollow and fast, and the caliber of surfing I witnessed was the very highest. The waves were head-high at the jacking Snapper Rocks take-off, and barreled for much of Rainbow Bay before backing off a bit and becoming a waist-high long-board wave that peeled the rest of the beach – and this was considered poor surf. Voted #1 and #2 surf spot in Australia. Kirra, sadly, at the end of the long sandbank line is now just a shadow of its former glory as the best wave in Oz – but apparently when conditions are right can come alive again.
Back in Sydney now, selling the car and the camping schtuff. Departure looms...