I Pity the Foo
Check this most-ultimate of all foosball tables.
It's a limited edition 'Good vs. Evil' version of the Opus table by
The Eleven Forty
company
(through 20ltd.com)
.
This beautiful table is a mere $28,800. Get two!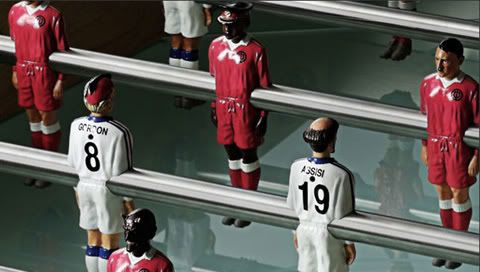 Here's the team lineup:
Team GOOD
:
Strikers:
M. Poppins, God, Ghandi
Midfielders:
Jekyll, Christopher Robbins, St. F. Assisi, Flash Gordon, Ma Teresa
Defenders:
Sir Thomas Moore, Bobby Moore
Goal:
Santa
Team EVIL
:
Strikers:
Vlad the Impaler, Lucifer, Caligula
Midfielders:
Hyde, Pol Pot, Hitler, Idi Amin, J. the Ripper
Defenders:
Rosa Klebb, Lady MacBeth
Goal:
The Child Catcher
Which team are YOU?