Couple 'a Queens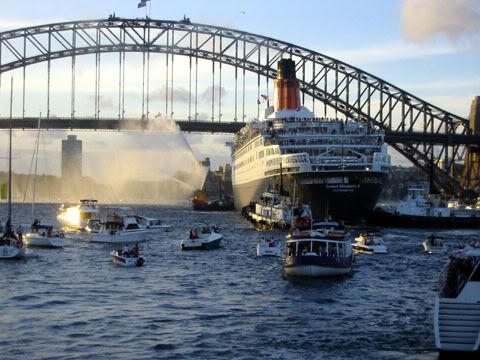 Not since Priscilla Q.O.T.D. has a couple of queens created such a stir in Sydney.
Today the Queen Mary 2 and the Queen Elizabeth 2 cruise ships arrived in port on the same day, and Sydney went mental. People lined the Harbour Bridge, Circular Quay, and the shore in all directions, rows deep. The ferry to Manly was packed with all kinds of extra people who rode it just to get out into the harbour and see the boats. People on the ferry swarmed to the windows and decks, first to one side, then the other, literally climbing over each other - and me.
The fire boat paraded around shooting plumes of water. Fireworks exploded in the sky. And the boats...there was watercraft everywhere. I think I could have skipped to shore from deck to deck. The ferry, which has traffic priority in the harbour, was stopped dead in the water for a good 15 mins because there were too many boats to move.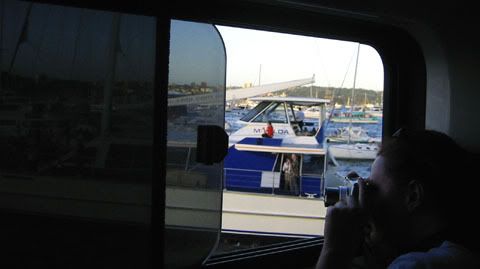 Cruise ships dock at Circular Quay on a regular basis - I hardly notice them on my way to work anymore. And why was Sydney so ga-ga? Your guess is as good as mine. I guess that ex-colonials have a weak spot for royalty.